"When you travel to go make a movie, it's not just about location, it's about who is there to make the movie with you and New Zealand has this extraordinarily large and talented pool of filmmakers and equipment."
The Meg qualified for the New Zealand Screen Production Grant 5% Uplift and was filmed in New Zealand at Kumeu Film Studios and on location in and around Auckland.
94% filmed in New Zealand
69 main unit days in New Zealand
35 second unit days in New Zealand
909 crew members- 87% were New Zealand residents
14 New Zealand Head of Departments
Screen Incentives
New Zealand is an extraordinary place to shoot just with their tax incentives alone, it makes it an easy choice to come and shoot here, and the fact of course that their crews are world class.
New Zealand crew are like a rock. Salt of the earth I call it, the best people. So reliable and a lot of laughs. The talent that comes out of there it's pretty damn impressive.
International Productions are eligible for a cash grant of 20% of Qualifying New Zealand Production Expenditure (QNZPE) with a 5% Uplift available for a smaller number of productions that are invited to apply and can demonstrate significant additional economic benefits to New Zealand. PDV Productions can access a grant of 20% of QNZPE up to QNZPE of $25 million, and 18% of QNZPE for QNZPE above $25 million. For full details please read the NZSPG Criteria International 1 July 2017.
The New Zealand Film Commission (NZFC), Auckland Tourism, Events and Economic Development (ATEED), Warner Bros. Pictures and Gravity Pictures entered into a partnership on The Meg, as a part of the New Zealand Screen Production Grants 5% uplift.

Find out more. Kumeu Film Studios
It is great to have an additional facility in New Zealand; a place I know well. I love to produce films there.
Filming took place at Kumeu Film Studios (KFS) for 27 days. KFS is a 27ha (67 acres) studio, in Auckland's west, a beautiful region popular with filmmakers for its dramatic black-sand surf beaches, rugged coastline and clifftops, picturesque farmland and pristine native forest.

KFS's central location has easy access to numerous locations- and is just 25 minutes from the city centre and the Hauraki Gulf- a location used for The Meg. Studio features include:
Two water tanks: Underwater Dive Tank and Ocean Surface Tank – the only tanks of this size in New Zealand.
permanent green screen wall: 70.6m x 13m (231ft x 42ft) with a surface area of 920m2 (9900ft2)
Two sound stages: 2336.3m2 (25,000ft2) each
stage area: 4036m2 (43,448ft2), 9m-11m (30ft-36ft) in height
workshop and manufacture space/secondary stage area: 6160m2 (66,305ft2)
production offices area: 1215m2 (13,084ft2) with fibre connection and Wi-Fi-fit out
12ha (30 acre) forest backlot.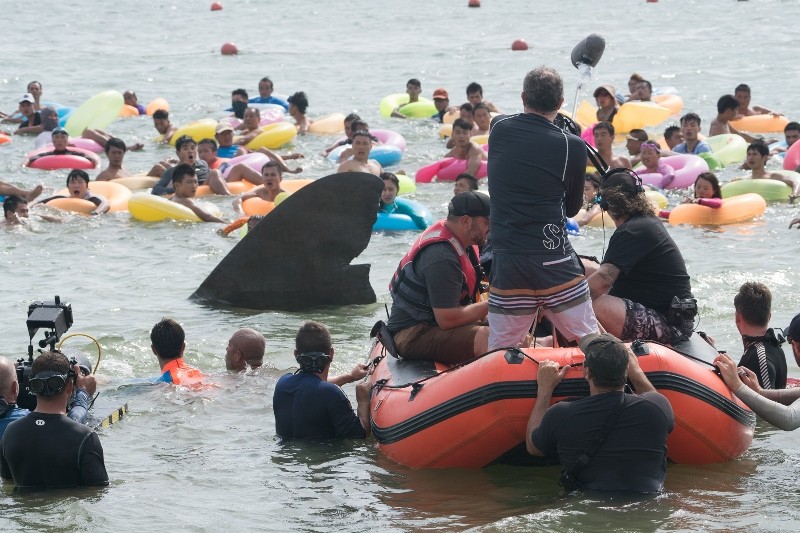 BTS The Meg Ocean Surface Water Tank KFS
© Warner Bros. Pictures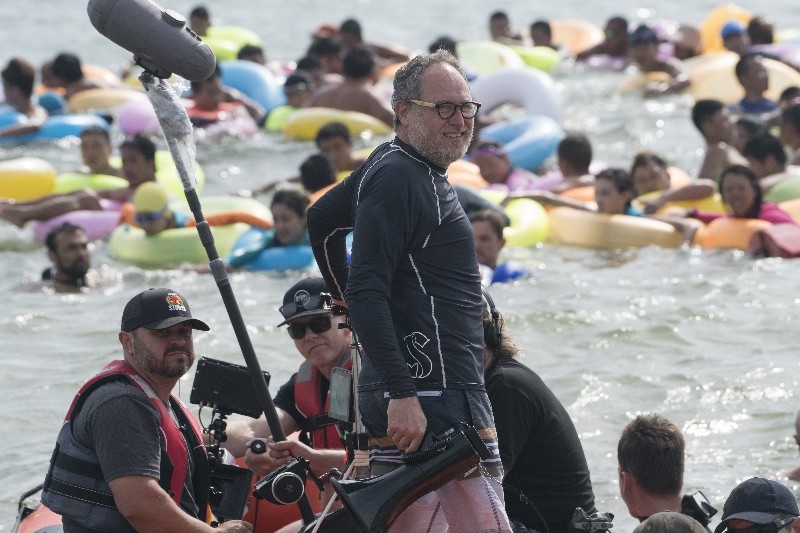 BTS of The Meg Ocean Surface Water Tank KFS
© Warner Bros. Pictures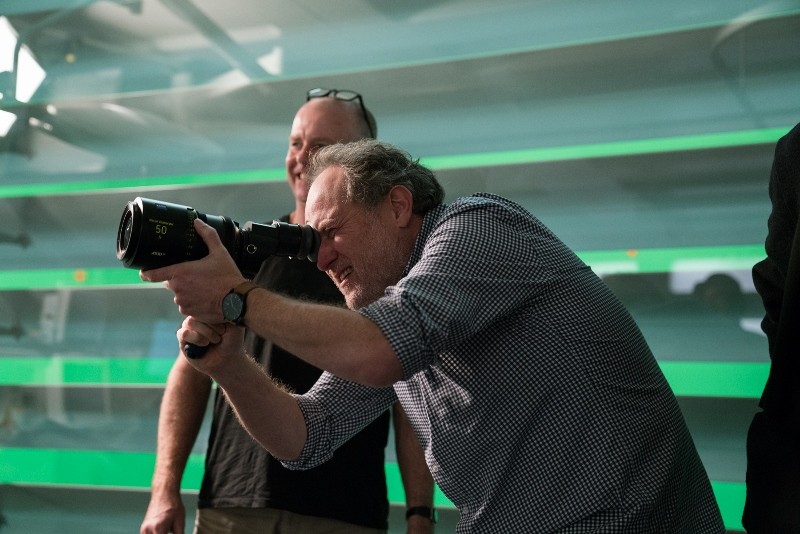 BTS The Meg with director Jon Turteltaub at KFS
© Warner Bros. Pictures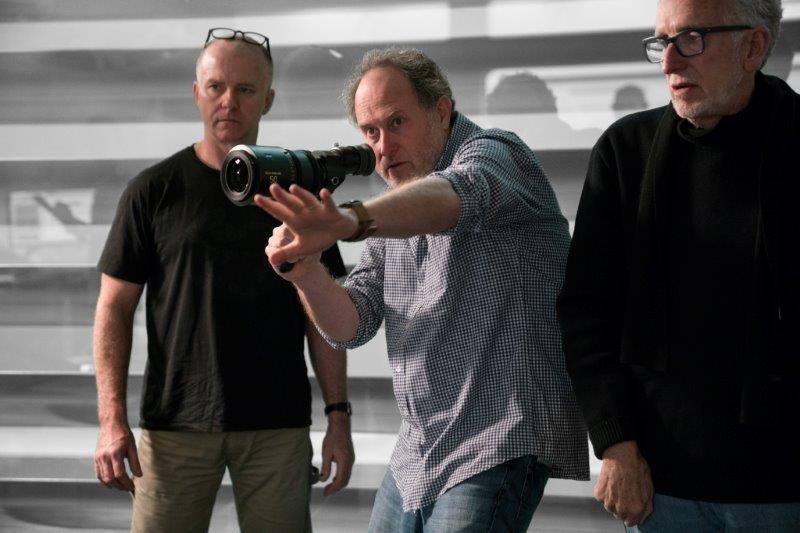 BTS Jon Turteltaub director with camera
© Warner Bros. Pictures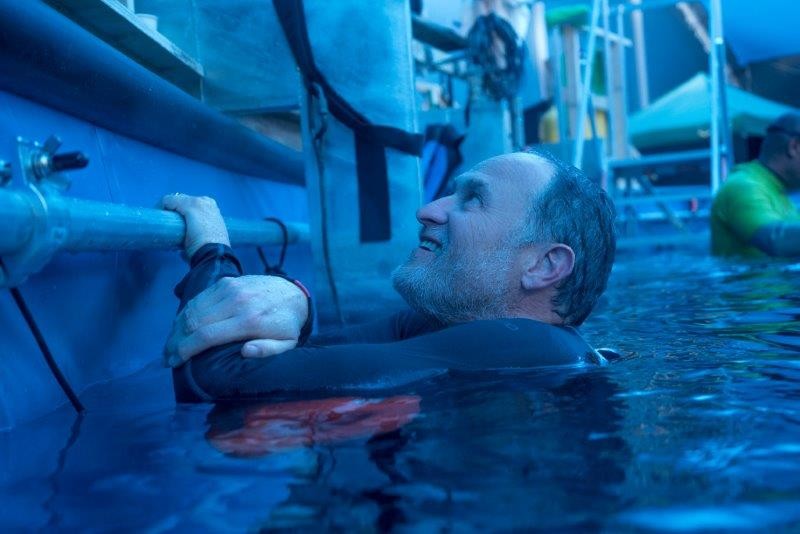 BTS Jon Turteltaub in indoor tank
© Warner Bros. Pictures
Previous
Next
Marine Locations
You can get beautiful still water, you can get rough water you can get all the different kinds of things you need, you can see every kind of ocean, so it's a perfect place to go film.
Filming for The Meg was based in Auckland; New Zealand's largest city which is set between two harbours.
The city is a haven for water lovers and The Meg is the first major feature film to use Auckland's Hauraki Gulf as a location.
The marine shoot included 29 days (approx.) spent filming on the water in New Zealand, with approximately 50 marine vessels (picture boats, barges, jet skis, etc.) used over the course of production and more than 100 cast and crew members during water filming days. The marine locations were all easily accessible from Kumeu Film Studios.
The Hauraki Gulf was used as the Pacific Ocean off the coast of China for the scene depicting a Megalodon vs. whale encounter.
Four days were spent filming at The Poor Knights Islands Marine Reserve for a scene depicting a character inside a shark tank, in pursuit of the Megalodon. This included two stunt doubles and up to 10 divers in the water at a time, who kept an eye on water conditions including the current and other marine life. The marine reserve is an internationally recognized icon, 23km off the Tutukaka Coast where the island's 11 million-year-old volcanic origins provide spectacular drop offs, walls, caves, arches and tunnels, all inhabited by an amazing array of underwater life.
Two days were spent at the Royal New Zealand Naval Training Centre for the opening sequence of the film; where 'Jonas Taylor'(Jason Statham) rescues crew trapped in a deep sea submersible at the bottom of the Pacific Ocean.
Auckland's Gulf Harbour and Fairway Marina were used by the second-unit as their base, providing cast and crew with a short and easily accessible point to the marine locations.
Production also utilised the Devonport Naval Base, Ardmore Airport and the Waitawa Regional Park on Auckland's coastline about 50km from central Auckland. Props
You need the people you need their skill, you need their talent and their creativity, that's what brought this movie to life.
Through cutting edge innovation and design, the New Zealand creative team behind The Meg designed and built fully interactive props to withstand the affectionately dubbed 'Statham Factor'.
"Jason Statham a very physical actor who requires props that withstand a substantial amount of pressure" Al Poppleton, Stunt Co-Ordinator New Zealander. The technical stuff that was built, the subs the gliders, the Mana One station, blows your mind, it's like something out of the future. Some of the subs we were in felt so real, you couldn't get more authentic.
The New Zealand creative team, the Art Department, stunt team and local prop making companies, designed and built interactive props creating realism, for both the actors and viewers, that would have been hard and costly to recreate in post-production.
"I started off thinking what can we give the actors in terms of an interaction and a way to make them feel like they were driving the sub- it went further than that- we saw the possibilities, and as things grew we had the ability for the actor to be inside the vehicle, move a joystick and it would move the screens within the vehicle and the vehicle itself." Rob Bavin Art Department Graphics
New Zealand made interactive props included:
Fully submersible gliders were operational using technology developed from gaming controls and specially designed software created by the New Zealand Art Department.
Fully interactive cue-able graphic playbacks for the underwater research station including a touch table created by the New Zealand Art Department.
Interactive stunt props, including Statham's spear gun and the cast's ear pieces, transmitters, trackers and breathing masks were created by Auckland based Main Reactor
The head of baby Meg was built in Wellington, New Zealand by prop making company Human Dynamo.
New Zealand company Glass Hammer built the top jaw of the Megalodon and the eye. The full Megalodon was made by VFX. Make-up and Costume
I always wanted to come to New Zealand and do a film here, but I really didn't realise how incredible the crew were or the talent was here. I mean we have got Academy Award winners on this film, not one but several …they are great problem solvers and they have all worked on really big films before. Every single one of them want to see you get everything you need from the film and put it up on the screen and that's a rare thing to just have a crew that works so tightly together.
The wet suits in The Meg were made by New Zealand company Sequeal. Each wet suit is sculpted to the cast member's body and even a mm out made a difference to the fit. This was a very time-consuming process, and each prototype took four weeks.
I've never been on a project where everything is actually real, it's interactive and I'm not having to pretend that I'm looking something up. They really did a phenomenal job. I can't give them enough credit.
In total, thousands of costumes were made for the film – each actor had at least two versions of their submersible costumes. Some had up to 13 versions Some wet suits had to be made for specific shots.
The design team created and bonded their own fabrics for the wet suits. This was outsourced to several different New Zealand companies including Main Reactor who created a heat press to bond the fabric.
"From a design point of view I have never had to create active wear before and that's been a great process, looking at the anatomy and how you can sculpt the body and make it more attractive and make things more shapely but in a practical sense." Amanda Neale HOD Costume Department.
A unique waterproof tattoo transfer was created especially for the film by the art department.
For Jason Statham's body double a facial stubble tattoo transfer was created to replicate Statham's.
For Ruby Rose's character 'Jaxx' a series of tattoo transfers were designed by New Zealand company Sacred Tattoo, to place over her existing tattoos. Each tattoo was designed to work with her Marine Engineer character – for example one was an octopus. Cast
New Zealander Cliff Curtis plays James 'Mac' Mackreides. 'Mac' is a New Zealand character in the film. New Zealand characters are quickly becoming favourites on the silver screen such as Taika Waititi as 'Korg' and Rachel House as 'Topaz' in Thor Ragnarok and Julian Dennison as 'Firefist' in Deadpool 2. Curtis was born in Rotorua, New Zealand, on July 27, 1968 and is a Māori New Zealander, who has played a wide range of diverse characters. Curtis is probably best known for his role as Paikea's father Porourangi, in
Whale Rider
(2002).
His other work includes:
The Piano
(1993),
Desperate Remedies
(1993), the urban drama
Once Were Warriors
(1994), the light-hearted comedy
Jubilee
(2000), and the uplifting chess film
The Dark Horse
(2014). He has also starred in the popular American television series
Fear the Walking Dead
.
Curtis is cast as a lead character called 'Tonowari' in the upcoming Avatar Sequels, to be shot in New Zealand.
Cliff Curtis was recently recognised at the 2018 Kea World Class New Zealand Awards, for his commitment to indigenous storytelling. The fun of the country kind of informed the fun of the movie you know it's such a beautiful country, the people are so down to earth and just relatable they have a great sense of humour, we had such a great time as an ensemble there.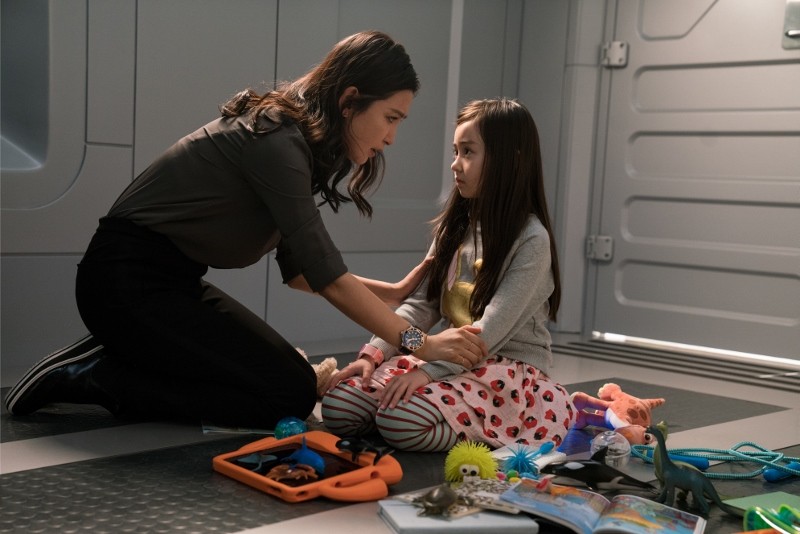 Li Bing Bing 'Suyin' and Sophia Cai 'Meiying' in The Meg
© Warner Bros. Pictures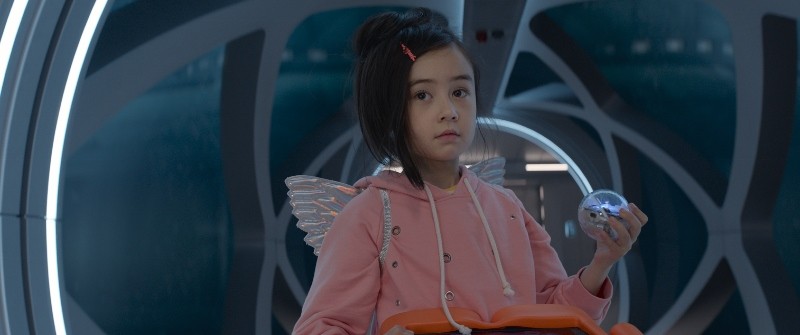 New Zealander Sophia Cai 'Meiying' in The Meg
© Warner Bros. Pictures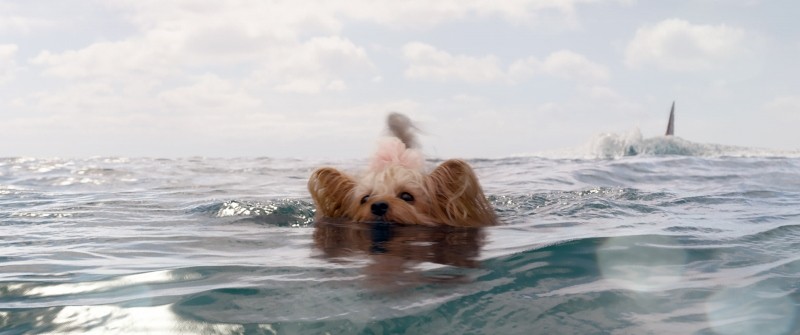 Pippin in The Meg
© Warner Bros. Pictures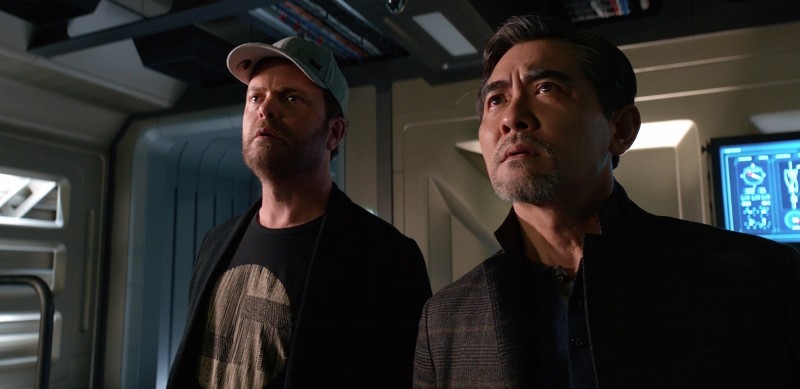 Rainn Wilson 'Jack Morris' and Winston Chao 'Zhang' in The Meg
© Warner Bros. Pictures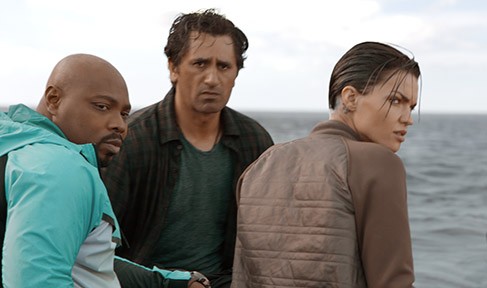 Page Kennedy 'DJ', Cliff Curtis 'Mac', Ruby Rose 'Jaxx' in The Meg
© Warner Bros. Pictures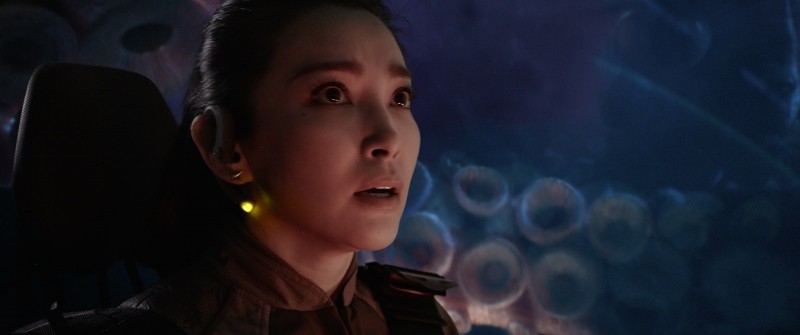 Li Bing Bing 'Suyin' in The Meg
© Warner Bros. Pictures
Previous
Next
THE MEG:
A deep-sea submersible—part of an international undersea observation program—has been attacked by a massive creature and now lies disabled at the bottom of the Mariana Trench…with its crew trapped inside. With time running out, former deep-sea rescue diver Jonas Taylor (Jason Statham) is drawn out of self-imposed exile by a visionary Chinese oceanographer, Dr. Zhang (Winston Chao), against the wishes of his daughter, Suyin (Li Bingbing), who thinks she can rescue the crew on her own. But it will take their combined efforts to save the crew, and the ocean itself, from this seemingly unstoppable threat—a prehistoric 75-foot-long shark known as the megalodon. Thought to be extinct, the Meg turns out to be very much alive…and on the hunt.
The film stars: Jason Statham, Li Bingbing, Rainn Wilson, Ruby Rose, Winston Chao, Page Kennedy, Jessica McNamee, Ólafur Darri Ólafsson, Robert Taylor, Sophia Cai, Masi Oka and Cliff Curtis.
Jon Turteltaub directed the film from a screenplay by Dean Georgaris and Jon Hoeber & Erich Hoeber, based on the best-selling novel The Meg by Steve Alten. Lorenzo di Bonaventura, Belle Avery and Colin Wilson produced the film, with Gerald R. Molen, Wei Jang, Randy Greenberg, Catherine Xujun Ying, Chantal Nong and Barrie M. Osborne serving as executive producers.
New Zealand; the official location of The Meg.