Fast Facts
68% series shot in studio
80 New Zealand lead/supporting credited cast
Prime Video's The Lord of the Rings: The Rings of Power brings to screens for the very first time the heroic legends of the fabled Second Age of Middle-earth's history. The 8-part fantasy series follows an ensemble cast of characters as they confront the long-feared re-emergence of evil.
New Zealand is at the centre of the new Tolkien-based series. Filmed across 38 locations, New Zealand's diverse landscapes are pivotal to the series.
Showrunner and executive producer Patrick McKay says they filmed all over New Zealand, bringing to life different Tolkien worlds. "We were determined from the beginning to make as much of this show practically as possible. So, in some ways, it's a love letter to Tolkien, but it's also a love letter to New Zealand."
Fellow exectuive producer Callum Greene says one of the special things about New Zealand, as an island, is the many different types of beaches. "On the East Coast, Coromandel Peninsula, there are beautiful golden sandy beaches. Yet, just the other day we were on the West Coast at Anawhata on the black beaches. From a central position, we're able to strike out and get two very, very different flavours. For us shooting in New Zealand means the opportunity to shoot in these very different beautiful locations, all from a nice central hub. It's the best of both worlds really."
Headlining this ensemble cast are Cynthia Addai-Robinson (The Accountant), Robert Aramayo (HBO's Game of Thrones), Owain Arthur (BBC's Casualty), Maxim Baldry (Mr. Bean's Holiday), Nazanin Boniadi (Showtime's Homeland), Morfydd Clark (Saint Maud), Ismael Cruz Córdova (Showtime's Ray Donovan), Charles Edwards (Netflix's The Crown), Trystan Gravelle (ITV's Mr. Selfridge), Sir Lenny Henry (Netflix's The Witcher: Blood Origin), Ema Horvath (What Lies Below), Markella Kavenagh (True History of the Kelly Gang), Tyroe Muhafidin (Caravan), Sophia Nomvete (Award-winning UK Theatre actor), Lloyd Owen (Apollo 18), Megan Richards (Wanderlust), Dylan Smith (Maze Runner: The Death Cure), Charlie Vickers (Netflix's Medici), Leon Wadham (Go Girls), Benjamin Walker (The Golden Compass), Daniel Weyman (BBC's Silent Witness), and Sara Zwangobani (Monarch Cove).
More than 1250 New Zealanders worked on The Lord of the Rings: The Rings of Power series, highlighting the depth of credited and highly skilled crew. Executive producer Lindsey Weber says the enormous crew was made up of mainly Kiwi's with some 'fantastically talented' New Zealanders heading up departments, including Costume Designer Kate Hawley, Set Decorator Megan Vertelle, Matt Cornelius Prop Master, and Pip Gillings the Unit Production Manager. "We've benefited enormously from their knowledge of the legendary films being legacy projects here. They worked day-in and day-out to help us realise this dream that we all shared," says Weber.
Auckland's screen infrastructure provided the perfect space with studio filming taking place at Auckland Film Studios, Kumeu Film Studios and Kelly Park. 87 sets were built and seven stages used for the series, including the two large water tanks located at KFS.
The series stars New Zealand actor Leon Wadham who plays Kemen a young Númenórean politico and Pharazôn's son. He says New Zealand was the perfect place to start the series.
"I think New Zealand has a really clear connection with Tolkien, for good reason. We have exquisite material to work with; the landscape is unparalleled. I'm grateful we kicked off the journey where we needed to kick it off."
The series is led by showrunners and executive producers J.D. Payne & Patrick McKay. They are joined by Executive Producers Lindsey Weber, Callum Greene, J.A. Bayona, Belén Atienza, Justin Doble, Jason Cahill, Gennifer Hutchison, Bruce Richmond, and Sharon Tal Yguado, and producers Ron Ames and Christopher Newman. Wayne Che Yip is co-executive producer and directs along with J.A. Bayona and Charlotte Brändström.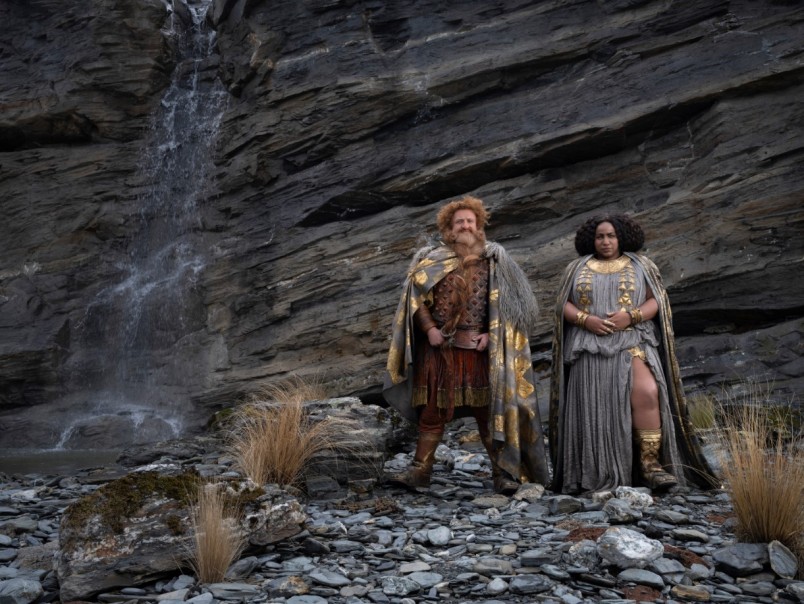 Credit: Ben Rothstein/Prime Video Copyright: Amazon Studios Description: Owain Arthur (Prince Durin IV), Sophia Nomvete (Princess Disa)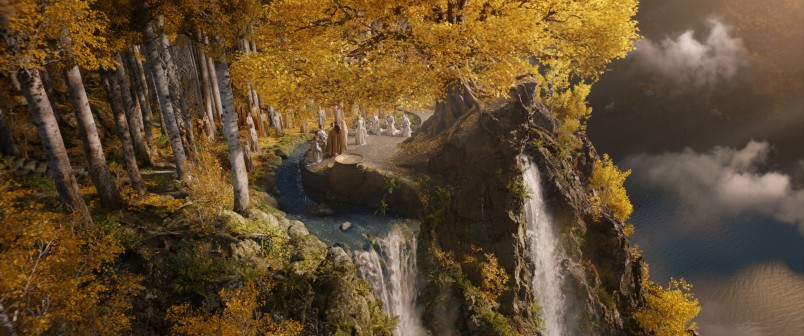 Credit: Courtesy of Prime Video Copyright: Amazon Studios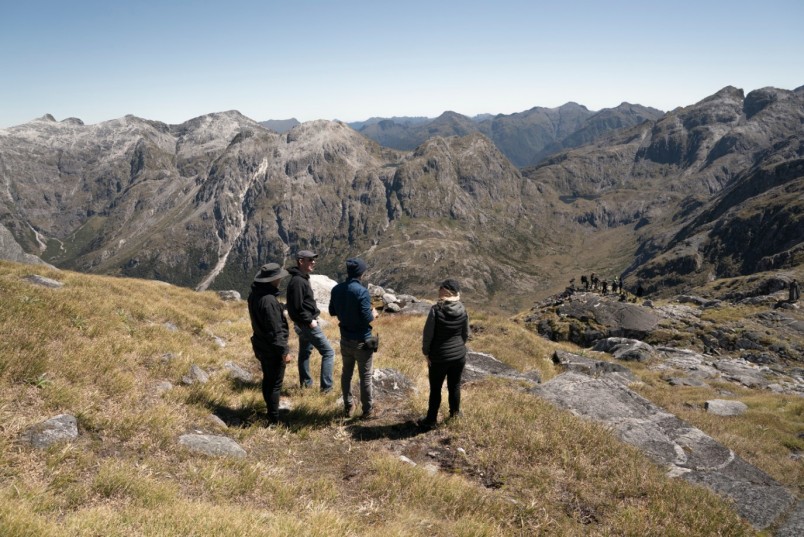 On location in New Zealand. Credit: Courtesy of Prime Video Copyright: Amazon Studios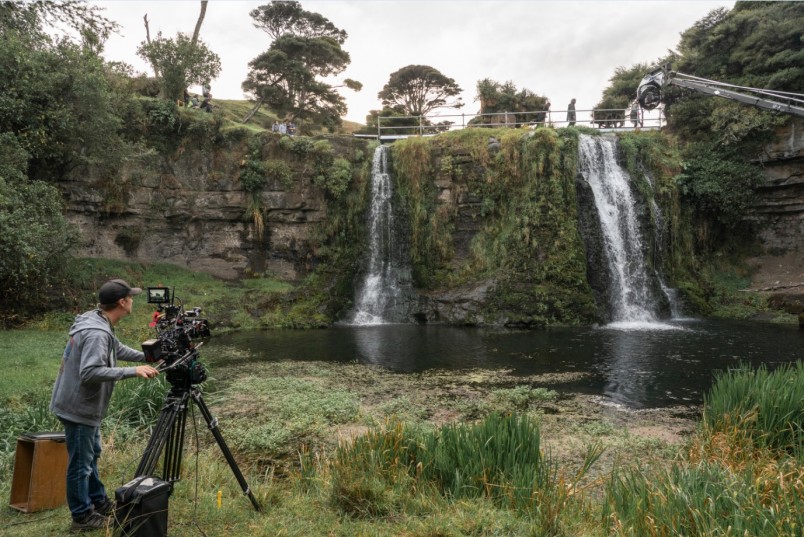 On location in New Zealand. Credit: Courtesy of Prime Video Copyright: Amazon Studios
Previous
Next
I think one of the beauties of my job is I get paid to be a tourist and to do that in New Zealand is second to none. Probably the best location in the world that I've ever shot at.
NZ$34.4m spent on accommodation
Over 51,000 accommodation nights
NZ$12m spent on air travel
105,000 car & truck hire days
Approx. 240,000 meals proved to cast and crew during shoot period
173 people employed in wardrobe
All costumes handmade, fabricated, adjusted and tailored
Infrastructure
More than $3.5m has been invested by Amazon Studios in developing connectivity between Auckland Film studios, Kelly Park Studios, Attwoods, Woodhill, Humphries, Department of Post and Rebel Fleet. This connectivity is a permanent investment that remains and enables low-latency connectivity of visual and sound between facilities.
Amazon Studios, in partnership with Moxion, Rebel Fleet, Wētā FX and Department of Post have invested in developing New Zealand innovation to world-class, production-ready resources. Capitalising on existing technologies that were born and bred in New Zealand, The Lord of the Rings: The Rings of Power series has built a robust pipeline to use on current and future local and international productions.
QTake has created new, custom tools for the production, funded by Amazon Studios including, cloud based digital video assist platform allowing for multi-camera, multi-unit playback – remote operable 360 'witness camera' for offset personnel. QTake is providing the production with never before used metadata tracking which is being used across the entire production.
Training
More than 20 New Zealanders, with limited or no previous experience, have been hired and trained up by Amazon Studios VFX and post production. They were all trained to a very high level and will be the modern filmmakers of tomorrow.
Lead technodolly and Scale/Motion Control Operator, Lee Buckley, led a course on modern filmmaking and motion control. The course was met with great enthusiasm and was featured in the NZ Cinematographer. Twenty students attended of which two candidates have joined the Amazon Studios scale team.
Music
Plan 9, located in Wellington, are a quadruple threat of musical talent. Having written and performed songs for Peter Jackson's Lord of the Rings and Hobbit trilogies, Janet Roddick, David Donaldson, Steve Roche and David Long are steeped in knowledge of the Tolkien Universe and have been writing and recording demos for original songs performed by the cast in the series.

Nazanin Boniadi (Bronwyn) Credit: Ben Rothstein/Prime Video. Copyright: Amazon Studios
For me, there's nothing like working with people who are from the country where you're shooting. You need that local knowledge, that local passion. That fact that you know that they're mentoring people beneath them to one day take their place. We were lost here in New Zealand over a decade ago for The Hobbit and to be able to explore the different places that New Zealand has to offer has been a real thrill.

J.A. Bayona (Director/Executive Producer) Credit: Ben Rothstein Prime Video Copyright: Amazon Studios
You know all the locations are outstanding and with the skill of our VFX department and combining some of these locations we've created worlds that none of the other Tolkien adaptations have ever seen. They're going to be unique just by the nature of them being the tapestry of different places creating one world.
About the New Zealand Screen Production Grant
The Lord of the Rings: The Rings of Power received the New Zealand Screen Production Grant – (International grant)
International Productions are eligible for a cash grant of 20% of Qualifying New Zealand Production Expenditure (QNZPE) with a 5% Uplift available for a smaller number of productions that are invited to apply and can demonstrate significant additional economic benefits to New Zealand. PDV Productions can access a grant of 20% of QNZPE up to QNZPE of $25 million, and 18% of QNZPE for QNZPE above $25 million. Full details can be found here.
Synopsis
The Lord of the Rings: The Rings of Power brings to screens for the very first time the heroic legends of the fabled Second Age of Middle-earth's history. This epic drama is set thousands of years before the events of J.R.R. Tolkien's The Hobbit and The Lord of the Rings, and will take viewers back to an era in which great powers were forged, kingdoms rose to glory and fell to ruin, unlikely heroes were tested, hope hung by the finest of threads, and the greatest villain that ever flowed from Tolkien's pen threatened to cover all the world in darkness. From the darkest depths of the Misty Mountains, to the majestic forests of the elf-capital of Lindon, to the breathtaking island kingdom of Númenor, to the farthest reaches of the map, these kingdoms and characters will carve out legacies that live on long after they are gone.
The Lord of the Rings: The Rings of Power is streaming from September 2 on Prime Video with new episodes dropping weekly.